Farriers' Greeting Cards - Hoofprints Website Navigator
Christian Gifts
Pray First Then Ride Sign
Cowboy 10 Commandments Tin Sign
"One single grateful thought raised to heaven is the most perfect prayer."
-G.E. Lessing, German critic & dramatist (1729-1781)
Item #P2379
The Evening Prayer
Reproduction print - Artist Unknown

Price - $19.95

Image size is 13" wide x 10" tall


Item #P866
Bedtime Prayers

Price - $31.95

Print size is 20" wide x 20" tall

Print Options

Item #P3096
The Playmates Prayer

Price - $19.95

Print size is 11" wide x 14" tall


Found - Artist of the original oil painting - unknown
Everyone remembers this inspiring picture from their childhood days, and we're pleased to offer it in a few different formats! We do not know the artist's name on this - for sure. Some attribute the work to Albrecht Schenck, other art historians think it's likely by Walter Hunt - (entitled "Shepherd's Call"); Hunt was known for his beautiful paintings of Collies.
Found - Print & Greeting Cards
Found Vintage Dog Painting Necklace
HoofPrints' owner Gina Keesling's note: This picture has been around for a long time, and is a perennial favorite. It was out of print for several years, and we were delighted to learn that the publisher had decided to produce additional copies. We've had many, many customers tell us they have fond memories of this picture hanging in their parents, and grandparents homes. It's even visible in the background of this Keith Urban country music video! Click here to watch the YouTube video.
Bless This Barn Wood Sign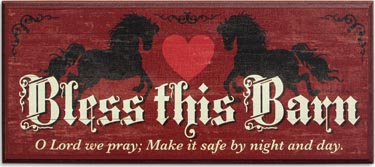 The sign reads; Bless this Barn O Lord we pray; Make it safe by night and day. We adapted it from the original verse written by Helen Taylor.

Bless this house, Oh Lord we pray
Make it safe by night and day
Bless these walls so firm and stout
Keeping want and trouble out

Bless the roof and chimneys tall
Let thy peace lie over all
Bless this door that it may prove
Ever open to joy and love

Bless these windows shining bright
Letting in God's heavenly light
Bless the hearth, a-blazing there
With smoke ascending like a prayer

Bless the folk who dwell within
Keep them pure and free from sin
Bless us all that we may be
Fit Oh Lord to dwell with thee
Bless us all that we, one day, may dwell
Oh Lord, with thee

-Helen Taylor

More info here.


---
If you prefer not using the shopping cart, or if ordering outside of the USA, click here to order.

Farriers' Greeting Cards - Hoofprints * 13849 N 200 E * Alexandria, IN 46001
Toll Free 800-741-5054 * Local 765-724-7004 * Fax 765-724-4632

Email gina@hoofprints.com * Request Free Catalog * Subscribe Free Email Newsletter