Horseshoe Pottery A great house-warming or wedding gift for that horse-y person on your list! Pottery is dishwasher and microwave save.
Each incredible piece is hand made and glazed by potter & horsewoman Jane Schwarzwalter. They are sturdy & functional, designed to be used for baking, serving & eating! Jane uses different sizes & styles of actual horseshoes to mold the handles & decorative parts of these pieces. Farriers will enjoy identifying them!
Order Horseshoe Pottery
Closeout Sale 20% off all items - Supplies are Limited
Additional pieces may be ordered directly from the artist here http://www.rolledoatspottery.com
Oval Shoe & Bit License Plate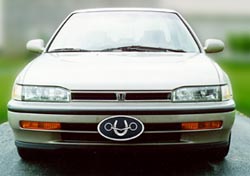 Our oval license plate gives even my ten-year-old Honda a sophisticated "Euro" look!
The Hill Country Collection blends rich, dark chocolate and raspberry tones to create a unique expression of western style. It's accented with cream leather trim, antiqued silver spots and a rope style buckle. Purse has interior zip pocket, accesory pouches and also includes a protective storage bag. Trifold wallet has plenty of pockets and spaces for credit cards, a checkbook, money, driver's license and more.

Item #AW7774620
Hill Country Zip Top Hobo Purse
Measures 9.5" x 8" x 4.5"

Price was $197.95 -

Sale Price $167.95







Item #AW7774282
Hill Country Tri Fold Wallet
Measures 7.5" x 4"

Price was $88.95 -

Sale Price $71.95




Tao of Equus Picture Frame Box
---
If you prefer not using the shopping cart, or if ordering outside of the USA, click here to order.

Farriers' Greeting Cards - Hoofprints * 13849 N 200 E * Alexandria, IN 46001
Toll Free 800-741-5054 * Local 765-724-7004 * Fax 765-724-4632

Email gina@hoofprints.com * Request Free Catalog * Subscribe Free Email Newsletter