Farriers' Greeting Cards - Hoofprints Website Navigator
Half Price / One of a Kind
Also check out our Closeouts, Half Price Books and Magazines, Half Price Art Prints Sale and our Half Price Jewelry Sale



OK folks, this is our clearing house of one-of-a-kind stuff that we need to get the heck out of here. Samples, slightly damaged items, returned items, OMG-we-need-the-space items - whatever. They are priced at least HALF OFF regular retail.

NOTE: First come, first serve - many of these are one-of-a-kind and sell faster than we are able to keep the page updated - we will ship what we have and note on your invoice if an item was sold out. No returns on these items.
- Gina Keesling, owner of Farriers' Greeting Cards
Here at HoofPrints, sometimes I get an idea in my head for a product line and it becomes a bit of an obsession. These bags and totes are the result of my apparent need to provide folks with clever ways to keep track of and carry their stuff. The exploratory phase of the project got a bit out of hand, though, and the result of that endeavor is this unlikely variety. If you're interested to see what made the cut, those are here.
American West Horseshoe Foldover Clutch
#BKHP89
Purple Retro Western Shirt w/Red Trim
Embroidered with Wild Mare logo

Has smile pockets, Red Snaps, Red Piping. 35% cotton/65% polyester

1 available, size Ladies Size Large* measures about 23" across the body x 28" tall.

***Please check carefully to ensure this is the correct size if you decide to order - as these are NOT returnable.

Regular Price $59.95 -

Half Price $29.98




Quarter Zip Thermal Lined Sweat
Embroidered "Farrier & Shoe" logo.

#TSWQZ
Quarter Zip Thermal Lined Sweat
This is a dressier version of our favorite thermal lined sweat. It has a hemmed bottom for easier fit, and concealed side slit pockets for a neater look. Embroidered with farrier & shoe logo. Color: Carmel.

Regular Price $58.95 -

Half Price $29.48




Two-Tone Jacket w/Bucephalus Embroidery
Item #TJAC7420
Two-Tone Jacket
Super soft Sage Green micro fleece jacket accented with Gray smooth nylon on the shoulders (front & back) and on the backs of the arms (from wrist to elbow - (great idea) Has an adjustable elastic drawstring in the waist with cord locks to provide a custom fit. A slight drop tail covers your fanny while riding or doing chores. Embroidered in black with our Bucephalus logo.

Price was $64.95


Half Price $32.48



Color: Sage Green/Grey
Embroidered Design "Bucephalus"


Item #TCFG
Farm Girl Faux Suede Fleece Lined Trapper Hat
Brown faux suede embroidered trapper hat is lined in pink and trimmed in super soft fleece. Adjustable button closure for custom fit. One size fits most.

Regular Price $32.95


Sale Price $16.48




Special Low Price $.99 - While supply lasts
Horsework before Housework Tin Sign
#CALUWD


2013

Underwater Dogs Calendar

Price was $13.99 -

Half Price $6.99



Featuring photos by Seth Casteel. Not your typical dog calendar, featuring impeccably groomed, beautiful specimens of various breeds - this one features a shocking new image each month - of a freakishly distorted dog(s) face - as he or she plunges into the water to retrieve a toy! Guaranteed to give a chuckle. Click here to see the back of the calendar that shows each month.

Some of the images are also shown on the photographer's website here.

21" tall x 13" wide open


Horse Woman's Air Fresheners
| | |
| --- | --- |
| Leather Scent - Hay Scent - Carrot Scent | |
Farriers' Truck Air Fresheners
| | |
| --- | --- |
| Money Scent - Leather Scent - Sport Fresh Scent | |


Item #AirF1
Sport Fresh Scent



Sale Price $1.99






Item #AirF1
Money Scent
May have minor flaws in the printing


Sale Price $1.99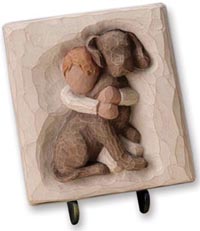 #CP26513
"Hug" Plaque - dog
Clay Plaques are about 4" tall.
Has hanger on back, or display with easel (sold separately)

Price was $13.95


Sale Price $4.99 each







#PCBS - Blacksmith Postcards (blank back)
25 different images of blacksmiths at work. Only a few with horses.
Package of 25 assorted black and white postcards - was $17.50 Sale price - $8.75 per package of 25

*Special Note* The gentleman who makes these calendars and postcards is considering ceasing production on them, so it is likely that these will be the last one's available - don't wait to order, our stock is limited.
HoofPrints owner Gina Keesling's note:
"Single blacksmith postcards sell for much more than this on ebay - this is a great deal for anyone crafty to frame these up, make collages, do scrapbooks, etc. All the cool stuff I was planning to do with them when I got time. I've finally decided to move on and let them go. You can get inexpensive black frames at the dollar store, frame these up and hang them as a group on the wall in your den. Stick a couple worn-out tools up there, and an empty Hooflex can or two... you'll be as quaint as Cracker Barrel!"
Dog Lover's Disappearing Mud Mug
Special note:
These lovely smiling dog photos were sent in by HoofPrints Facebook fans. When the muddy pawprints disappear you'll see:

Colene White's Freckles (a Border Collie)
Gina Hyatt's Marshfire Lily (a rescue Dalmatian)
Robi Heffington's Clinch (a Corgi)
Carrie (a rescued Red Tick Coonhound from The St Louis Senior Dog Project)
Caprice Madison's Brownie
Jeni Peck's Poudre
LeAnne Manning's Gus Gus (a rescue from OK-Save-A-Dog)
Ashley Moniz's Nattie (a rescue)
Susan Stevens-Clark's Mandy (a Rottweiler)
Tracy McDermott's Ginger (a rescue from SEMO Animal Rescue Alliance, Inc.)
Gina Keesling's Lucy (a Jack Russell Terrier)
Gina Keesling's Puppy-Girl (a Labrador Retriever)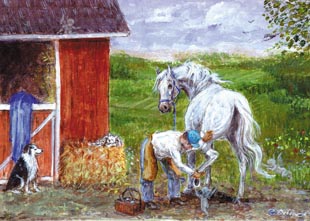 Item #ANG
Farrier Angels
Price $7.50 per package of 10 cards and envelopes.


Sale Price - $.99 per package of 10




Angels are there when a farrier trims feet, making the hooves nice and neat. Inside: blank inside so you can write your own note. Close up shows tiny angels steadying the horses foot and holding his tail aside. Artwork by Delia Pacheco. See her website at Delia Art.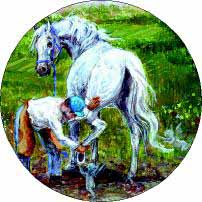 Farriers' / Hoofprints Holiday Greeting Cards
Half Price Sale $3.98 for all of these cards
Order early for best selection. Some cards are low inventory and once sold out will NOT be reprinted!



Item #DEC
Decorated Shoe
Inside: Best wishes for a happy holiday season. [Optional Thank You phrase: and sincere thanks for your business this year..
Artwork by Gina Keesling.
Item #PC-DEC
Decorated Shoe Postcard
Price was - package of 20 - $5.00

Sale Price now - $2.50


Blank back.

| | |
| --- | --- |
| Photo by Laura Cotterman | |
| | |
| --- | --- |
| Bells in the picture are used on horses in the west - usually one is put on a lead mare to help the cowboys keep track of the rest of the herd. A paragraph on the back of the card describes this. Photo by David Stoecklein | |
Item #DOW
I'm Dreaming of a White Christmas
Inside: Best wishes for a beautiful holiday season [Thank You phrase: and sincere thanks for your business this year.] Photo by David Stoecklein.


Item #BSW
Blacksmith Shop With Wreath
Inside: Best wishes for a happy holiday season [Optional Thank You phrase: and sincere thanks for your business this year.]


Item #DWD
Cowboy Church
Inside: [Optional Thank You: Thank you for your business and] May Peace, Joy, Hope and Happiness be yours during this Holiday Season and throughout the New Year.
Artwork by Kenneth Wyatt.




Item #XRH
Christmas Rhyme
Front: A wish for you, in simple rhyme - A bright and happy Christmas-time.

Inside: Best wishes for a joyful holiday season.


---
If you prefer not using the shopping cart, or if ordering outside of the USA, click here to order.

Farriers' Greeting Cards - Hoofprints * 13849 N 200 E * Alexandria, IN 46001
Toll Free 800-741-5054 * Local 765-724-7004 * Fax 765-724-4632

Email gina@hoofprints.com * Request Free Catalog * Subscribe Free Email Newsletter