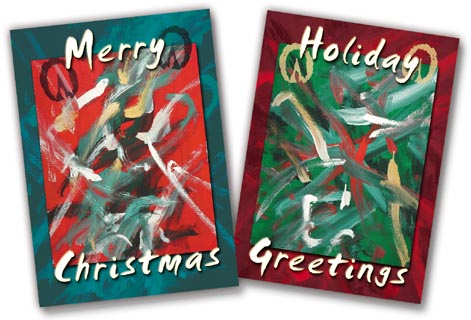 Item #HPH
HOLIDAY CARDS PAINTED BY A HORSE
package of 10 (5 of each painting shown)

Front: Painting by Romeo

Inside: Straight from the horse's mouth. Wishing you a joyous Holiday Season and a New Year filled with peace and happiness. [Optional Thank You phrase: With sincere thanks for your business this year.]

Click here for inside layout.

Package of cards include 5 each of the two designs shown above. The back of the card has photos of Romeo painting, and a short bio of his history as an equine artist. Artwork by Romeo, Paso Fino Horse.

Click here for back layout.

In case you were thinking that the whole idea of a horse creating art was just a bit too off the wall... consider Harry Beston's words from The Outermost House:

"We need another and a wiser and perhaps a more mystical concept of animals... We patronize them for their incompleteness, for their tragic fate for having taken form so far below ourselves. And therein do we err. For the animal shall not be measured by man. In a world older and more complete than ours, they move finished and complete, gifted with the extension of the senses we have lost or never attained, living by voices we shall never hear. They are not brethren, they are not underlings: they are other nations, caught with ourselves in the net of life and time, fellow prisoners of the splendour and travail of the earth."