Farriers' Greeting Cards - Hoofprints Website Navigator
HoofPrints - Riding for a Cure
| | |
| --- | --- |
| Courage Mug | |
#MMC
Courage Mug
Price - $19.95

16 oz heavy ceramic mug sports the calligraphy of inspirational writer Mary Anne Radmacher. Whether your challenge is medical, equine or otherwise, this mug will offer a little support to start your day.


Life Is Tough - But I Am Tougher
Stretch Bracelets




Don't you know - it's the accessories that make the outfit!! Our new Stretch Bracelets come with an inpirational message.

Comfortable stretchy elastic band features a two-sided message plaque with horse charm. One size fits most - band is about 7" unstretched.

Buy one Stretch Bracelet for $9.95 or..... Buy 3 Stretch Bracelets and get the 4th one Free!!

#JZ001
Life Is Tough - But I Am Tougher


| | |
| --- | --- |
| Stamped Charm Necklace | To see the rest of our inspirational jewelry click here. |
Riding for a Cure Brooch


#JHHB
Riding for a Cure Brooch
Price - $35.95

Heavy Sterling silver with enameled pink ribbon on the horse's hip, hand made in the USA. Measures 1" tall x 2" wide.


A Woman's Place is on a Horse Pink Fleece Vest
Item #TVWPH - $29.95
A Woman's Place is on a Horse Pink Fleece Vest
Soft fleece vest has a flattering, slimming cut and lots of details; zippered pockets, adjustable hem with elastic shock cord, longer tail in the back for better coverage. We've embroidered it with our cantering horsewoman and the words "A Woman's Place is on a Horse" in feminine script.

Color: Pink



Embroidered Design "A Woman's Place Logo"

Closeup of logo here.
A Woman's Place is on a Horse Hooded Sweatshirt

With special thanks to our friends at Prairie Song.
Item #TSWWPHF
A Woman's Place is on a Horse Hooded Sweatshirt
But then we all already knew that. Wear this shirt to make sure no one forgets and asks you to do something "in the home" before you can escape to the barn.

The embroidery on this is super intricate - requiring over 26,000 stitches to complete the design around the appliqued brown fabric that's printed with coordinating pink horseshoes. We've put it on a super heavyweight preshrunk 10 oz (regular sweats are 7 oz) that's buttery soft inside and out, and it gets softer with each washing. Does not shrink or pill and sizes are generous.

Price $59.99

Color: Fuchsia

Click here for close-up.


Tuff Chix Pink Winter Fleece Gloves
SIZING YOUR GLOVES: It's simple to get a great fitting glove online! Just print out the sizing chart and use it to get the correct fit. To download your Ironclad sizing chart, just click here.

Be sure your printer is set at 100% when you print out the size chart.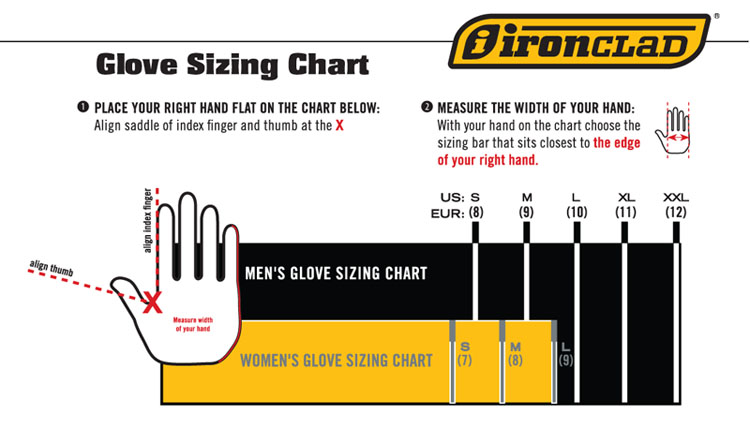 HoofPrints Barn Blade - Pink knife with hay string cutter
This sturdy, anodized aluminum knife is just what horsewomen have been waiting for. A great knife to take riding and to the barn - that the guys won't cabbage onto because it's PINK! It's a good, sensible size (4" closed, 7" open) to carry and use on a daily basis. The spring steel clip on the back lets you hang it on the inside of your pocket so you can get to it without fishing around, and the special notch with a protected second blade lets you cut hay strings in a jiffy without ever opening your knife! The blackened stainless steel blade has an easy-open knurled grip in case (heaven forbid) you need it quickly to cut someone loose. Horsemen (and women) should always carry a knife when working around horses, and this one is perfect for the job!

Comes with a laser engraved winged horse logo.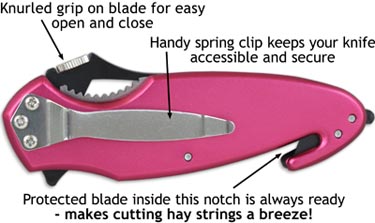 HoofPrints Barn Blade (with logo)

#KN138EN
HoofPrints Barn Blade
Pink Knife with hay string cutter
With laser engraved winged horse logo

Price - $19.95


New! Attempt the Impossible Rose Quartz Nugget Necklace
Item #JSPATI
Attempt the Impossible Rose Quartz Nugget Necklace

An 18" strand of pale pink rose quartz nuggets holds a pewter horse pendant inscribed "Attempt the Impossible". The polished natural nuggets are about 1/2" across and the pendant is 1 1/4" wide. Closes with a toggle clasp

Rose quartz is a stone of healing powers, of unconditional love and infinite peace. It's said to draw off negative energy and replace it with loving vibes. It helps with releasing unexpressed emotions and heartache, soothes internalized pain and heals deprivation.

Whether it does all these things or not - it's a lovely stone that looks great paired with this pewter pendant.

Price $32.95


Breyer Pink Ribbon Horse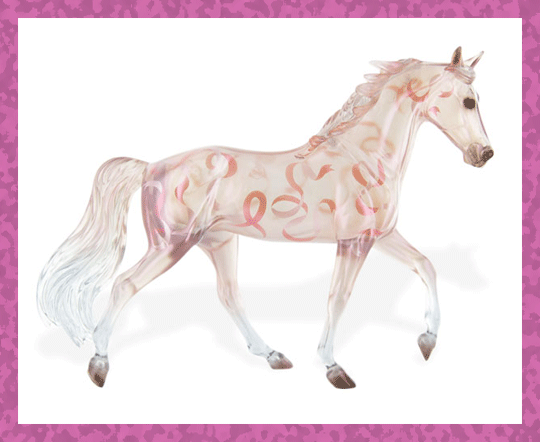 #BR1447
Breyer Pink Ribbon Horse
Breyer will donate $1 from the sale of each model. (see above for details) This molded acrylic horse is colored a pearly rose, and decorated with iridescent pink ribbons for a striking effect. Measures 9" tall x 12" long.

Price - $49.95 each



---
If you prefer not using the shopping cart, or if ordering outside of the USA, click here to order.

Farriers' Greeting Cards - Hoofprints * 13849 N 200 E * Alexandria, IN 46001
Toll Free 800-741-5054 * Local 765-724-7004 * Toll Free Fax 888-724-4632

Email gina@hoofprints.com * Request Free Catalog * Subscribe Free Email Newsletter