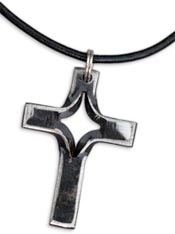 Item #JDC1
Steel Cross on Leather Cord

Price $39.95

This pendant is hand forged by an Ohio blacksmith. He takes a single piece of recycled 1/4" square stock, splits it in two different directions and hammers it into this unique cross shape. The result is lightly wire brushed to maintain the unique quality of the steel, then coated with automotive clear for durability.

If you look carefully at the picture - the different planes will remind you of one of those brain-teaser pictures that can't physically exist - like the works of M.C. Escher as seen here.

Cross is 1 1/2" tall, leather cord is hand tied with a special adjustable knot system that lets you choose your perfect fit from choker length to about 26".

Click here for close-up.