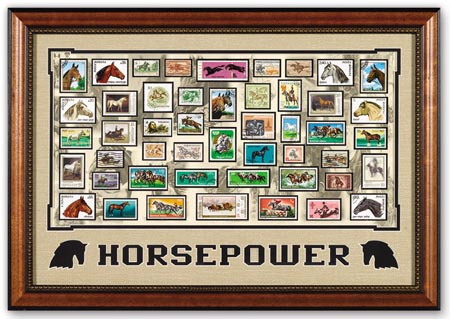 Item #P9005
Horsepower Framed Horse Stamp Collage
Amazing is the only word we could come up with for these. Everything about these is cultural, textural, rich - fascinating. Jack Klein is a graphic designer by trade, and a postage stamp collector too. His passions are apparent in these two framed pictures. He painstakingly selects the appropriate stamps from around the world (about 50 per picture), steams them free from their envelopes and then reapplies them to these artfully designed backgrounds - all perfectly straight and centered. Amazing. Then, as if that were not enough, he cuts the words & logos out of the linen textured mat and assembles the whole works up in a nice wood frame. (we think Jack may be a bit of an over-achiever, but we love the results!)

Framed size is 26" wide x 19" tall

Regular Price $299.95
Sale Price $209.95


See Dog version here.