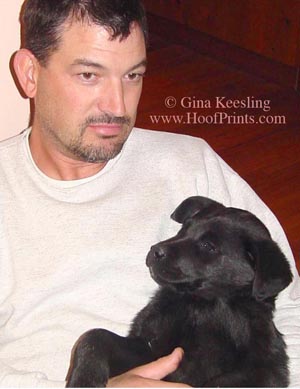 "Puppy-Girl and Rob - shortly after the umpteenth "NO MORE DOGS" decree. Who could resist that sweet face?"
Puppy-Girl
Labrador Retriever
Joined the Keesling family 2006
After my emergency appendectomy in 2006, I had hoped that the medical "trials" for our family might be over for a time, both for our mental well-being and our bank account. But alas, it was not to be. When I took our small herd of dogs to the vet for their annual checkup, I voiced to Dr Joy my concern for Black Labrador "Puppy" (original name, huh?) as she had gotten a little thin and had been acting lethargic lately.

Puppy-Girl was a stray - dumped out as a young puppy the previous year. The other dogs were grumpy to her - but she won them (and us) over in typical Labrador sweetness so she joined our family as dog #4. We'd treated her for anemia and hookworms, and she perked up considerably. So naturally I assumed the hookworms were back, and thus the anemia and lethargy.

How wrong I was when she was diagnosed with not one, but two, BROKEN hind legs. A stifle injury rarely seen in both legs unless congenital - and then the prognosis is not good. Expensive surgery was the only option to repair the damage - I discovered after extensive research (thanks to my internet friends; veterinary experts who offered honest - and free - advice)

The smartest thing might have been to put Puppy out of her misery, and save her the pain of bone reconstruction in BOTH legs, and spare our already strained finances. I thought about the piece above - as Puppy-Girl is truly a good soul - "loving everybody all the time and being nice".

I wanted her to stay a little longer - so we could all continue to learn from her; she's been so sweet to the other dogs - even when they are not very nice to her. And I have never seen a dog so un-worried and relaxed - we often say in the warehouse that if we could learn to manage our stress like Puppy, we'd have it made!

So, ultimately, the surgery was successful. The surgeon thought the damage was caused by a trauma, and not congenital. Which is a good thing - but doesn't say much for my proficiency as a dog caretaker - I can't tell worms from broken legs! And after all those hours of sitting in on horse lameness lectures with my farrier husband... I guess it's a good thing I am not a farrier or vet.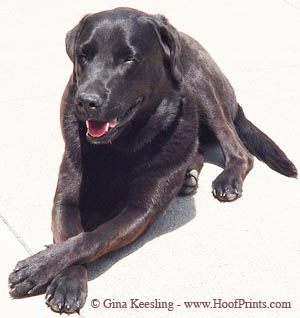 "This beautiful dog lives up to her legacy as a retriever. She keeps the geese from spoiling the lawn, and with no training whatsoever will swim out and retrieve a shot muskrat - while the rest of our dogs are cowering from the gunshot sound."
Why Humans Live Longer Than Dogs - author unknown


Being a veterinarian, I had been called to examine a ten-year-old Irish Wolfhound named Belker. The dog's owners, Ron, his wife, Lisa, and their little boy, Shane, were all very attached to Belker and they were hoping for a miracle.

I examined Belker and found he was dying of cancer. I told the family there were no miracles left for Belker, and offered to perform the euthanasia procedure for the old dog in their home. As we made arrangements, Ron and Lisa told me they thought it would be good for the four-year-old Shane to observe the procedure. They felt as though Shane might learn something from the experience.

The next day, I felt the familiar catch in my throat as Belker's family surrounded him. Shane seemed so calm, petting the old dog for the last time, that I wondered if he understood what was going on. Within a few minutes, Belker slipped peacefully away. The little boy seemed to accept Belker's transition without any difficulty or confusion. We sat together for a while after Belker's death, wondering aloud about the sad fact that animal lives are shorter than human lives. Shane, who had been listening quietly, piped up, "I know why."

Startled, we all turned to him. What came out of his mouth next stunned me. I'd never heard a more comforting explanation.

He said, "People are born so that they can learn how to live a good life -- like loving everybody all the time and being nice, right?" The four-year-old continued, "Well, dogs already know how to do that, so they don't have to stay as long."

Live simply. Love generously. Care deeply, Speak kindly. Leave the rest to God...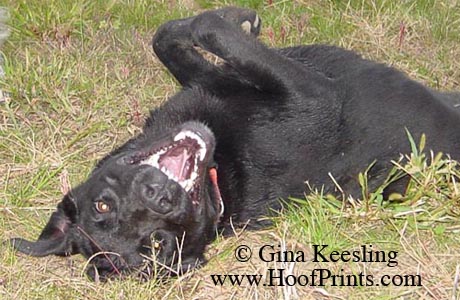 "Is this joyful - or what? She's not obsessing over the fact that she was an unwanted orphan - who now has defective legs held together with pins, wires, and screws. Nope. She's livin' her life and lovin' every minute of it. Sore legs and all."
Anyone who's ever had to consider the decision to euthanize an animal (or not) knows it is not an easy thing. One morning shortly after the surgery, our retired neighbor Nick stopped by and immediately asked about the dog's expensive surgery, in the disapproving tone reserved for practical folks who are somehow able to eliminate emotion from difficult financial decisions.

I curtly told him that I could not make the decree to kill the dog, so if finances were strained for a while, then so be it. I was in no mood to hear any crotchety advice about a matter that was over and done with.

Now Nick is one of those characters that you meet once in a lifetime. He emigrated to the US from Greece; landed in NY as a young boy without even shoes (sounds cliche - but true) His family became involved in the restaurant business, and he eventually put himself through pharmacy school. He owned pharmacies in Chicago, invested in real estate, and retired a very wealthy man. His days now (at over 75 years of age) are spent with his wife here in rural Indiana; tending to his home and pond, visiting family, friends and neighbors, and offering us unsolicited financial advice in his gruff greek accent. He is a veritable wellspring of knowledge and experience, so we try to keep that in mind when his comments are not necessarily what we want to hear.

So what he said next was a great source of both amusement and contemplation for me. After calculating how many truck payments could have been made with the dog's surgery money, out of the blue, he proclaimed that I was sure to go to Heaven now; that when I got to the Pearly Gates Saint Peter would say to me, "Gina, I sent you my dog and you fixed her - Come on in!"